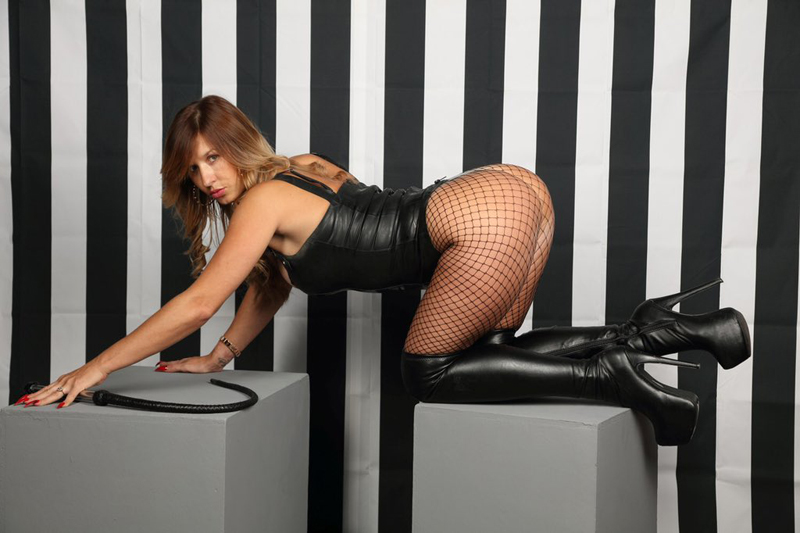 So, you wish to worship Mistress Lady Ashley? Well then, I expect you to succumb to my own ideas. Although I love to tease you until your little cocks are twitching and throbbing, I also want you to feel the bite of my cane or maybe my whip or should I choose my tawse, whatever I use I will show you the beauty of pain and pleasure, I'm a true believer that you should suffer to please this Queen and in return you will get your reward.
Does seeing a beautiful domme dressed in latex, leather or PVC, wearing a strap on make you weak at your knees? Do you long to be forced to the floor in your stockings and suspenders and made to suck Mistress' cock deeply? If you need to experience a real strap on session, being fucked in so many different positions that you will fear your ass has been ruined, then you have just found the dtrap-on Queen for you, prepare for the ultimate GRIND!! Maybe you yearn to be spit roasted. Perhaps Mistress will force her subs to choke you with their cocks, or demand that they ruin all your holes?
Are you ready to join Mistress' "Bitch Club" giving all your holes to her to use and abuse?
Have you been looking for the best fetish experience? Enter Miss Lady Ashley's world for the ultimate fetish climax.
Here is some insight into just one of my scenarios:
I order you to strip off all your clothes immediately, stand in a corner and await your fate. I run my extra-long nails over your body, teasing you. I pull you by the hair towards my face and whisper in your ear: "Do you want to worship Miss Lady Ashley?"
I order you to kneel before me which you immediately do, then kiss my boots. In a strict manner I pull you back up by your ear: "DID I GIVE YOU PERMISSION TO WORSHIP MY BOOTS BOY?!!".
"No Mistress! Sorry Mistress!"
"Do you think this is acceptable behaviour, boy?!! You will now be punished and learn to obey your Mistress!". I tie you down to the whipping bench, ensuring you cannot move and begin to punish your bottom with an extremely hard hand spanking.
You thank me and beg me to stop: "I will never forget my place again! Please Mistress, have mercy on me!".
I begin squeezing your cock whilst you're tied down. You scream with excitement and pain: "Thank you Mistress! Anything for you Mistress!"
I pull out my cane and command you to count every strike and thank me after each one as you plead – "Please Mistress! Please! Do I have to take the cane?". 
I reply in a very strict tone: "How dare you think it's acceptable to question your Mistress! For that you will receive double, slave boy".
"Yes Mistress. Thank you Mistress!" You quietly reply.
"I can't hear you sub, speak up or you will receive triple the amount!".
The first strike lands on your bottom. "One! Thank You Mistress."
After receiving six of the best on your bare bottom, you ask in hope: "Please Mistress! Is my punishment done?".
I reply in a strict tone: "I have only just begun and you are now interrupting me sub! I shall cane your bottom until you learn your place!"
After twenty strokes are complete I order you to your knees: "Lick my thigh high boots from the bottom to the top NOW!"
As you get to the top I grab your hair and force your face into my ass holding you there. "You will worship me, boy!"
Once I'm happy with your punishment, I point you towards the cross: "Face the wall and spread your legs".
I tie you tightly to the cross so your bottom is on show. You're feeling very vulnerable, as I reach for my strap-on: "Now, it's time for you to take my strap on, worm…"
I begin to slide my cock in and out slowly as I begin to fuck your ass fast and hard. I'm going to ruin your ass. "Mistress is going to fuck you better than you have ever been fucked before"
I undo you and order you back to the bench and strap you down. The fucking begins again. "You will take my cock deep in your ass!"
I come towards your head and ram my big cock in your mouth – "Suck it, slut!"
I have full control over you as I order you to the bed and chain you down, lowering my beautiful ass onto your face while teasing your cock and balls with my long nails. It's time to employ my milking machine for some teasing!
"You cum when I say worm, UNDERSTOOD?" You just can't bear my nails being round your balls while being milked. "Oh please Miss Lady Ashley! Please may I cum?!"
"NO!" I reply as I slip a butt plug up your ass. "Beg me for your release worm boy. Why should I allow you to cum? Do you deserve it? I may just tease you, deny you and then send you home without your release".
I turn up the milking machine and wait until you are ready to explode, then turn it off. I'm highly amused at how my teasing and denying is driving you wild. I then turn the milking machine onto full power: "I think you have suffered enough. Permission is now granted for you to release boy."
I enjoy being very strict and handing out punishments, but also can be firm, yet sensual, for beginners. I expect you to crave me from the minute you step into my world!
This is only one scenario of mine. I'm a true pro domme and enjoy most aspects of domination, Although I enjoy mind control, I'm at my best when I'm doing what I enjoy the most, pushing your limits and training you to become a true sub / slave / sissy / pet. 
If you love being a true pain slut then you have just found the right Mistress. I will take you to levels you have never been before! I don't want you to suffer because I'm a man hater. In fact, the complete opposite! I get a thrill and complete enjoyment pushing the limits of a true slave! I love taking you towards ownership and moulding you into the slave I desire! When I say this I don't mean in a session! I'm referring to lifestyle. As much as I love doing sessions, I find even more enjoyment in controlling you daily. Spending time out of session with my loyal owned boys is just something else to me. Watching you learn day by day what it means to belong to MLA. See I don't need to act in a session, I'm truly dominant 24/7. I expect you as my owned slave to follow my commands. In the future I will have at least 5 live in slaves who will adhere to my every need my every command. I was born to control you so enter my lair if you dare!
Sissy Play: Do you long to be dressed in sexy outfits, underwear, and stockings then trained to be the perfect sissy slut? Maybe you just like to put stockings on? Do you have these fantasies but feel awkward making them become a reality? Fear not. Miss Lady Ashley can offer you comfortable discreet surroundings where I can guide you and make your fantasies become a reality.
As a sub / slave / sissy do you crave a forced-bi session but are a little unsure if it's safe? Well, Miss Lady Ashley can guarantee a safe forced-bi session in her chambers with clean subs and slaves who are under the full control of Miss Lady Ashley. If you wish to be under Mistress' control, being fucked like a slut, your holes being abused or becoming my pain slut contact Me via the form with as much detail about what you seek as possible to ensure you get the best out of your session with me. don't delay, I expect you to approach correctly.
Maybe you have a foot fetish and love beautiful, perfectly maintained pedicured feet. Mistress enjoys ordering you to suck and nibble on her beautiful feet, I can grantee you will never be disappointed with my perfectly looked after feet. Mistress ensures she visits the nail salon every 2-3 weeks to keep my feet perfectly groomed. Once you are before my feet there will be no other feet for you.
If you have a long stiletto nail fetish you really have found the Mistress of your dreams, I have beautiful long well looked after nails for you to adore, worship and be tortured with. Although the first sight of my nails may scare you, once you feel them slowly run down your body you will understand the pleasure they can bring, althoughof course, they can be deadly and used to torture you if I want them to! Many visit me purely for the sensual tease of my beautiful nails.
I enjoy all aspects of pain play so if you want to please me, I expect you to push your limits for me. After all you want to please your Queen, don't you, boy?
I cover most fetishes, if your fetish is none of the above that does not mean I don't do it. The above are just some of my favourites, I have many more! So I suggest you come and play and share your darkest, kinkiest fantasies with me.
I also have clip stores for you to enjoy my clips with a variety of clips ranging from soft and sensual to cruel and mean.